Hello, all!
This post is for my memory quilt customers.
Memory rag quilts are NOT about design.  They are about your memories.
If you are purchasing one for a child, they are about you going through your child's clothing before and after a quilt and remembering when each outfit was wore or other memories entangled during that period of your child's life.
If you are purchasing one for a loved one that has passed away, then this quilt is really about having something to hold onto.
I am not designing you a quilt.  I am cutting the clothing you send me and putting a quilt together for you based on what you send.  If you send a rainbow of colored clothing, you will get a rainbow colored quilt.  If you send all pink and white clothing, you will get a pink and white quilt.
I do not go through and pick certain pieces that work together like I do in my other quilts.  I use what you send.  If you want your quilt to be color coordinated, then send me clothing that you have already coordinated.
how much does each quilt hold
Each memory quilt size holds a different amount of blocks and a different size block.
The biggest question I have is how many clothes to send.
That is very difficult question to answer since clothing is different sizes and cuts, but I can tell you how many blocks each quilt holds and hopefully that will help you decide on how much clothing to send.
small baby memory quilt – (49) 6″ blocks
crib size memory quilt – (48) 7″ blocks
Lap quilt (adult tshirts only) – (36), (42) or (49) 10″ blocks (this quilt has block amount options)
Large throw (most popular size) – (120) 7″ blocks
how your baby clothing is cut
I don't have many issues that arise using adult clothing.  From adult clothing I can almost always get more than one block from each piece.  The only obstacle that will hinder that would be a zipper.  I won't use a zipper on any block.
Most obstacles come from baby or small children's clothing, so we will go there next.
The item above is common item in baby clothing. I see them in almost every box of clothing I have for a memory quilt.  Sometimes instead of buttons there is a zipper.  They both mean the same thing.  It means I can only use the back of this piece of clothing on your quilt.  It will render one block.  You can count this item as one, if you count.
This is another item that I see often.  Most of the time I can get two blocks from this type of clothing.  Front and back.  Assuming it's not super tiny.
Many times on baby items that have buttons or a zipper down the front of it, there is also a little motif or design off to the side.  Sometimes that motif is around the collar or chest area and sometimes that motif is down near the waist of the clothing.
If it is near the waist when I cut it, it will look like the above image.  since it has zippers, snaps, or buttons I can't use it straight on, so I cut it in a way to keep the zipper out of the block.  It ends up with a seam in the block.  Still looks cute, but I want you to be aware of how it looks.
If that motif or design is at the chest, 9 times out of 10, I can't use it.  If that is the case, I will end up only using the back of these items in your quilt.
In the onesie above (another common baby item) we have a very skinny onesie and it doesn't quilt meet requirements for the block size.
That's okay.  When that happens, I can still use your clothing, I will just applique it on to the correct size block and it will look like the block in the picture below.
This item above will only count as one.  The reason is that it has snaps in the back.  Which means I will only use the front of this clothing.
Here is another piece of clothing that has buttons, so I can't use the front.  But it has little motifs at the chest and pockets at the waist.  On this item I could include the pockets, but not the motif at the top.
Here is another example below of the how the blocks will look that can come from an item of clothing similar to the above one.
The item of clothing below will work for most of the smaller block quilts because I will cut towards the bottom (out of the way of the buttons) and will get two blocks from this one.
If you order a larger quilt, I would only be able to use the clothing for one block and it would be the back of the clothing.
Here is another example of the motif at the chest that I cannot get on a block.
However, I can cut the motif out and applique it if you insist.
Above is a block that I got with a seam running down it.  If those seams are a problem, be sure to send enough clothing so that I can avoid them OR leave a note in your box stating to avoid seams.
Notes are a good way to let me know if there is something particular on the clothing that you want.  You can use safety pins to pin your note to each piece.
However, you do not need to pin a note on each piece of clothing pointing the obvious out.  Such as the item below.  I'm going to cut out those flowers and fit them on your block.  You do not need to leave me a note telling me you want the flowers.  Or applique, or name, or anything in the very center of your clothing.  It's obvious.
If there was a stain and you want me to avoid it, that would be a reason to leave a note on the individual item.  Or if something was on the back that you want on the quilt, that is a good reason to leave me a note.
what items are okay and not okay to send
I'm happy to mix materials, sweaters are fine to send along with thin tshirts.
There are only a few items that I do not want to see and those items are : underwear of any kind, swimsuits, socks, and hats of any kind or anything silk.
Please do not send those items.  I will not use them.
If you have thin receiving blankets, or swaddles or any blanket really, I can use that in your quilt and it goes a very long way as far as how many blocks I can get from them.
Feel free to be creative with what you send.  I can also use fitted sheets, pillowcases, bed skirts, boppy covers, towels, or even fabrics that you have around your house.
if you send too little or not enough clothing
After this post it might still be difficult to decide how much clothing to send.  You can leave a note in your box of clothing letting me know that you would like unused clothing returned to you.  If you have unused clothing and you do not leave a note, those items will be donated.  If you want them returned, you will be responsible for postage.
If I cut all your clothing and you have not sent enough, I will notify you letting you know.  You will have the option of sending more clothing OR I'm happy to add in fabrics to finish up your quilt at no additional cost.  Many times the memory quilts look really great with fabrics.  You will be allowed to choose colors.
how to send your clothing
After you purchase your quilt, you will receive an email from me stating where to ship your clothing to.  It is ESSENTIAL that you put the name you ordered your quilt under on the OUTSIDE of your box.  Not a note on the inside, but on the outside.
If your mother in law purchased this quilt for you under her name and you are shipping the clothing to me, then it needs to be her name on the outside of the box, not yours.
If I get to your order and have no box (I usually send an email) of clothing for you, I will push back your order 30 days until I do.
I cannot tell you how many times this has happened since I started making memory quilts in 2009.
Many have worried that their clothing had been lost in the mail when all along they had shipped under a different name or a postage store was the only name on the box I could find.
USPS is by far the cheapest shipping method and I have tried many.  I do accept UPS and Fedex packages as well.
However, you do need to make sure that however you ship, you do not add 'signature confirmation' to your shipping method.  I may miss the delivery, and your package would be returned to you, costing you more shipping fees.  Both UPS and Fedex are too far for me to drive to.  So please just skip the 'signature required'.
embroidered names
I do not do machine embroidery, but I can still put a name, message or picture  on your quilt.  I call them message blocks and there is an option to add one to your quilt before you add your item to your cart.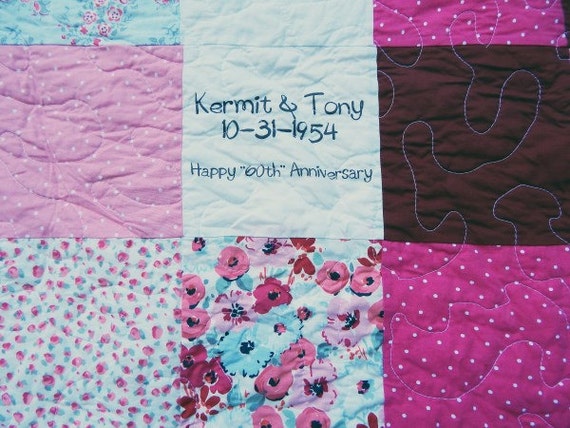 Did you receive my box of clothing?  Did I send enough?
Memory quilts are my best sellers in my shop, and I have MANY boxes of clothing waiting for me to start on.  My production time is usually around 60 days, so these boxes tend to sit awhile (safe and sound) until I'm ready to work on your order.  But there are lots of them.
I do not open them until I'm ready to work on them.  I would not want anything to fall out of them or get mixed up with another's clothing, so I DO NOT OPEN THEM.  When I am ready to cut your clothing and start your quilt, I go get your box and open it for the very first time.  Therefore, I cannot tell you if you have sent enough clothing until I begin your order.  If this is frustrating for you, then please send more than enough clothing, I'm always happy to return it if you send too much.
It's best if you save/get your tracking info from when you ship your box of clothing to me so that you can know that I have received your box.  It's very difficult and time consuming for me to have to go and search the 30+ boxes I always have to let you know if your clothing has arrived.
backing options
Each quilt comes standard with oatmeal colored natural cotton backing.  It rags beautifully and matches everything.  It still sales better than all the other options.
But for those of you who want something different there is an option before adding your quilt to your cart that you can upgrade to:
dyed backing-  which just means that I'm going to take that beautifully soft natural cotton and dye it a pretty color.  Almost every color under the sun is available except black.  It's only a little bit extra to have dyed backing
or minky backing-  minky is incredibly silky soft.  It also will make your quilt very heavy, thick and warmer.  Sometimes the minky is not dimpled the way it is in the pictures below, it sometimes comes smooth.  Either way, it's incredible.  It is an upgrade so it does costs a bit more.
do you only make memory quilts in the rag style?
For years this has been my only method, however things are changing.  If you wish to have a memory quilt in the more traditional style, please email me.  The prices are substantially more than the rag quilts, but if you want to let me know the design you had in mind, i'm happy to give you a quote.
If you have any other questions at all, please do not hesitate to ask.  You can find all my memory quilts here.
(this post may be edited and/or updated randomly)